Both St James' and St Mary's Hospital treated casualties from D-Day. Casualties were brought back to Portsmouth, Gosport, Southampton (and Portland) in ships and landing craft that had delivered troops to the beaches, as well as on specially equipped Hospital Ships.
Hospital records from St Mary's Hospital show that there were 5 admissions on D-Day itself and 20 on the day after. The D-Day casualties were from the Royal Naval Volunteer Reserve (RNVR) and a number of Canadian regiments; the day after from the Royal Naval Reserve (RNR), Norwegian Navy, Royal Navy (RN), Royal Warwickshire Regiment and the North Shore (New Brunswick) Regiment of Canada. This places the Canadian casualties from Juno Beach, while the RN casualty was from HMS Swift supporting actions on Sword Beach
Roger Bryant recalls: "We were walking down Fratton Road towards Fratton Bridge… to our astonishment we saw what appeared to be a line of military vehicles across Fratton bridge, as we got closer we realised that they were military ambulances. As we got onto the bridge and looked right down what was Canal Walk…these ambulances…were bumper to bumper all along the road until they disappeared in a bend of the road and as we walked across the bridge, we crossed over to the south side of Goldsmith Avenue, so we're looking across the width of the road to the ambulances and they were literally bumper to bumper and they extended down to where the Talbot public house is now and they then went into, at that time there was access to the railway sidings and the ambulances were queued up down and into this railway siding, where there were hospital trains, stood there waiting, and someone said these are all the wounded coming back from D-Day and this would have been the day after D-Day say about 10.00 in the evening…people were going over and giving them cigarettes…somebody said there's Germans in that ambulance and you know I felt, I was then about 10 and thought, I expected guns to be blazing, it really, I really felt uneasy you know and I was quite relieved when we walked on."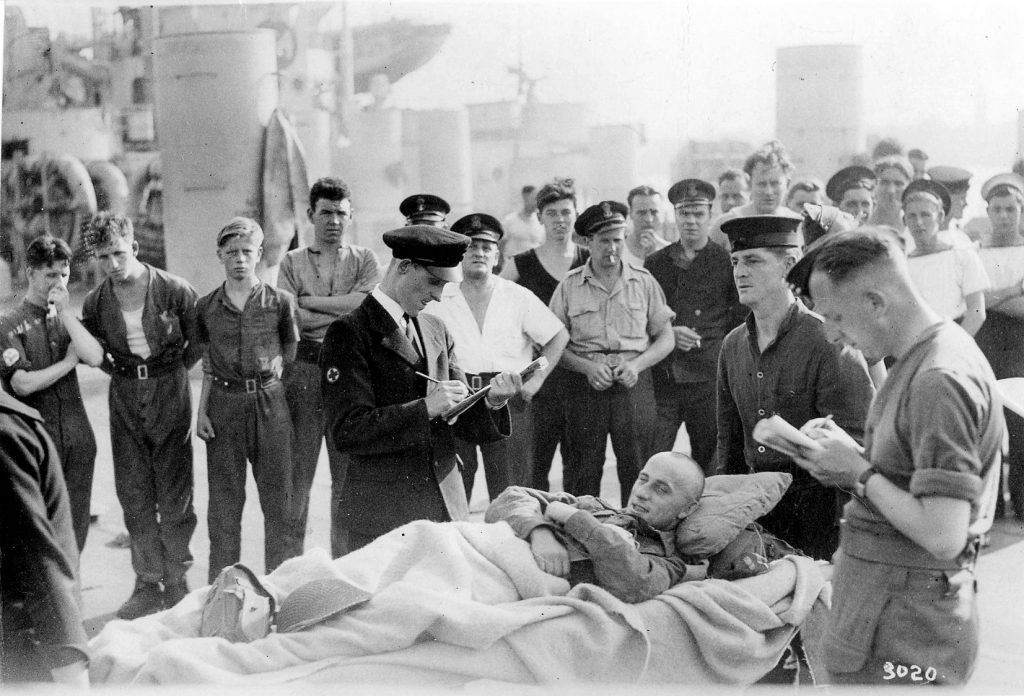 Over the month following D-Day, 126 trains left Portsmouth carrying 26,243 allied casualties to other hospitals and 851 Prisoners of War.
The nursing staff at the hospitals were supplemented by civilian Voluntary Aid Detachments (VAD) and the Red Cross. During the Portsmouth Blitz, these were supplemented by Rover Scouts who acted as stretcher bearers for air raid casualties.
To return to the start, click here