Life in Pre-War Portsmouth
Wyn Brown's father was just 14 when he joined the Royal Marines, he lied about his age so that he could get away from the poverty of life in the East End of London and fight for his country in the Boer War. Back then, this was a simple choice – people knew the hardship of normal life, but there was little appreciation of what war was really like. Twenty years later, after a distinguished military career where he had served on a ship picking up survivors from the Titanic and went on to be decorated during World War 1, he was unemployed and living in Eastfield Road with his wife and 3 sons. Unemployment was widespread after both world wars.
He had moved to Portsmouth as he was based at the Royal Marine Barracks in Eastney – many of the houses in the roads around the barracks were occupied by families ofthe marines based there.
In 1921, before Milton became a part of Portsmouth (Eastney had been since the 1890's) his wife gave birth to a daughter Winifred (soon to be shortened to Wyn which was her preferred name for the rest of her life). He got a job in the Post Office and she grew up in the area no different to most other children.
The house was a '2 up, 2 down' – so imagine mum, dad, 3 boys and a girl in 2 bedrooms. Downstairs there were 2 rooms – the living room where everyone lived and the sitting room, which was kept for when visitors came, with its red sofa and 2 chairs and a bit of carpet in the middle. The kitchen was on the back of the house and the toilet was outside in the garden – there was a tin bath which used to be placed in front of the fire in the living room when it was used.
Growing up, there were very few cars, so the boys used to play football in the street and the girls had skipping ropes which they strung across the road and played skipping games. At 6 o'clock each night, they would have to clear all of the skipping ropes as there was a wheel maker at the end of the road and he would exercise his horses up and down the road at that time – they probably needed a run around after a hard day pulling carts around the city making deliveries.
At the end of the road, there were allotments which ran through where Milton Market has been built all the way to the sea (which came up to Bransbury Park back then).
Wyn went to Milton School (now called Milton Park School) and later, Francis Avenue School (now Fernhurst). There was no television back then, so most days she spent her time with friends at one of the local churches, Eastney Gospel Mission where there were choirs and other activities to get involved in. She played violin along with 29 others!
She left school at age 14, which was quite normal then, and went to work in the shoe trade at Barta's in Commercial Road, but she only worked until she got married as it was unusual for married ladies to work in those days. She met her husband at Sunday School and they married in Devonshire Avenue Baptist Church in June 1940 when she was 19 and he was 22 and they rented a house in Dunbar Road.
Rent in Dunbar Road was one guinea a week – that is £1.05p in today's money and they lived there quite happily for almost exactly 2 years until June 1942.
Life during the war was getting harder, new things were not available as more and more resources were directed into the war effort. Food rationing began in January 1940 when bacon, butter and sugar were rationed. By 1942 many other foods, including milk, cheese, eggs and cooking fat were also 'on ration'. A typical weekly food ration for a single adult would be 4oz of bacon or ham, possibly 2 chops subject to availability, 2oz of butter, 2oz of cheese, 4oz of margarine and of cooking fat, 3 pints of milk, 8oz of sugar and just 1 fresh egg plus some dried egg. (2oz is just 50g, that is less than the weight of an average sized egg).
Milton was relatively safe, but the main part of Portsmouth, especially near the dockyard had been heavily bombed since 1940 and in total, there were 67 air raids and over 2,500 bombs rained down on the city between 1940 and 1944. The air raid sirens sounded 1,581 times and when they did, people had to move into public shelters or little 'Anderson shelters' in their gardens or cupboards under their stairs. The raids were usually at night, as there was less chance of being shot down in the dark – so many people chose to walk to Portsdown Hill each night and sleep in the open there, rather than risk the bombs in the city.
(1,581 air raid sirens in 4 years is slightly more than 1 per day)
The worst bombing in the city was during the evening on Thursday July 11th, 1940 when 24 German bombers destroyed a gas holder at Rudmore causing a huge explosion and left 18 dead and 80 injured.
One of those who died was PC Stanley Spooner, the 1stpolice officer to die in Britain in the bombing. He was 28 and lived in Twyford Avenue, Stamshaw and was based at Kingston Cross Police Station in London Road, North End. The bomb which killed him was just a few doors away from the Blue Anchor pub, it demolished the pub and the off-licence next door.
His son said: 'Apparently he was returning to the station when the siren went off. He saw a chap in the street. He shouted at him to get under cover and he didn't. So he went back to get him. That's when he copped it. He was the first policeman to be killed in the city by the bombing and also the first in Britain.'
The man he tried to save was Percival Prince, of Velder Avenue, Milton. He died too.
In one raid in August 1940, the Luftwaffe dropped 65 250kg and 500kg bombs and HMS Vernon, the navy's mine and torpedo centre, was badly damaged and an air raid shelter took a direct hit in the raid, with a death toll of more than 100 city residents and workers. The dockyard suffered greatly taking a direct hit, killing 65 dockyard workers.
So apart from the rationing and having to sleep quite often in an air raid shelter, the residents of Milton probably felt quite lucky compared to those they knew elsewhere in the city. And it was probably with this false sense of security that Wyn, her husband and her mother went to sleep in the Anderson shelter in the garden of their house in Dunbar Road on the Saturday evening, 13thJune, 1942.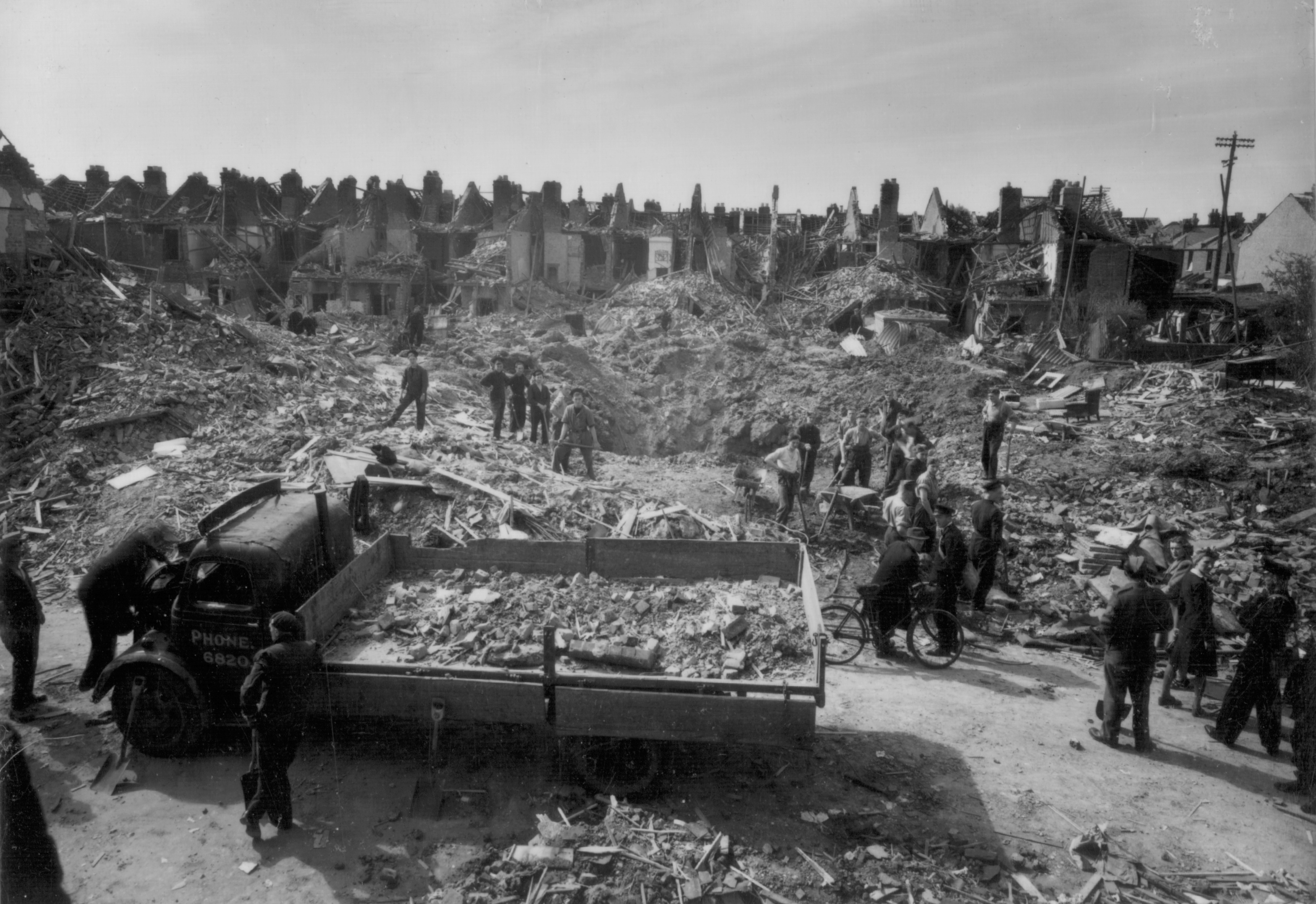 The bomb hit between 3 and 4 in the morning. It completely destroyed 6 houses and badly damaged many more. Wyn, her husband and her mother were unharmed, although they had to look for Wyn's mother who ended up under the bed with the mattress on top of her. Others were not so lucky, 2 bodies were found behind number 18 Dunbar Road and 1 more elsewhere, with20 people who were trapped and had to be freed. Eventually, 6 people were taken by ambulance to the Royal Portsmouth Hospital in Commercial Road.
One of the 1ston the scene was a local policeman from the police station in Eastney Road (opposite the school) and he worked with the Air Raid Warden and others to organise the various emergency services. Their notes from the night (as every callout was 'written up' on waterproof paper and filed), show they were annoyed because 2 fire engines had been called and only 1 was needed.
Unfortunately, bombing in the city was so common that the coordination of all the services involved in helping the injured, clearing and identifying bodies, getting fires under control, restoring essential services and clearing the streets were adept at working quickly and quietly together, getting the job done even at 4am on a Sunday morning.
We don't know where Wyn lived after that, but we do know her husband had chosen the house in Dunbar Road as it was near White and Newton where he worked and continued to work for the rest of the war.
To continue the walk at White & Newton, click here